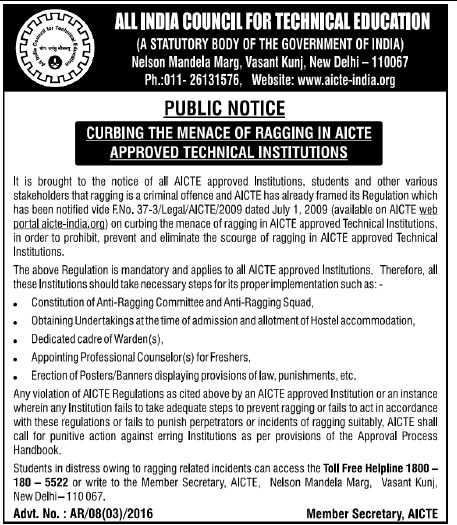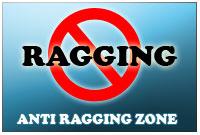 ANTI-RAGGING COMMITTEE
The Government of West Bengal has enacted Anti Ragging Law, "West Bengal Prohibition of Ragging in Educational Institution Act 2000" to prevent ragging at the Educational Institutions. Further, the Government has directed all heads of educational Institution of the State activities stringently as per the provision of the law. The Supreme Court in its order, dated the 16th May 2007, has ordered a crackdown on ragging on campuses across the country. The court made it compulsory for Colleges and other educational institutions to register FIRs and said exemplary punishment should be awarded to offenders, so that it acts as deterrent. Establishment of Anti-Ragging Committee (as per AICTE notified regulation for prevention & prohibition of ragging in AICTE approved Technical Institutions vide No. 37-3/Legal/AICTE/2009 dated 01.07.2009) In pursuance of the above orders and directives an Anti-Ragging Committee is hereby reconstituted for the academic year 2017-18.
Anti-Ragging Committee of the Institute is being reconstituted with the following as members:
1.Chairperson: Prof. Avijit Das (Director) [9007030125]

2.Co-Chairperson: Prof.(Dr.) Sanghamitra Chatterjee (Principal) [9433118879]

3.Convener – Prof. Saswata Sundar Laga [9477405306]

4.Officer –in-Charge of Madhyamgram Police Station

5.General Secretary, Taj Club, Digberia

6.Prof Olivia Saha [9836286701]

7.Prof. (Dr) Chandra Mohan Khan [9230547116]

8.Prof. (Dr) Jagannath Roy [9433340869]

9.Prof. Kankana Maji [9477486327]

10.Prof. Susankar Mondal [8420545706]
It shall be the duty of Anti-Ragging Committee (ARC) to ensure implementation of the rules and acts relating to ragging of students in the Institution through the efforts of Anti-Ragging Squad(ARS) and Mentoring Cell(MC) in particular and all employees ,Students, Parent Bodies, Local Administration etc. It will lay down the policy guidelines, direct and Coordinate the activities of ARS and MC, take decision and findings and recommendations of ARS, and take appropriate actions. It will also maintain a copy of the digital form of anti-ragging affidavits collected from new students and their parents. It will coordinate with the State Level Monitoring Cell of the State Government. All the members of ARC are hereby requested to actively participate in the anti-ragging activities and make this institute of higher education in technical fields totally free from ragging.
Members of Anti ragging Squad: Prof. Sayan Das – Convener [9007030119]

1.Mr. Saptarshi Sinha Asst. Registrar [9051939412]

2.Prof. Avhishek Saha [9836615153]

3.Prof. Shyamal Patra [9433539933]

4.Prof. Monoj Kumar Pain [8013241617]

5.Miss Akhi Roy [9804762357]

6.Mrs. Barnali Das [9007030172]

7.Mr. M. Biswas [9831643649]

8.Mr. Manas Sahoo [7685938708]

9.Mr. Siddhattha Dey [974432363]
The Anti-Ragging Squad(ARS) will remain on high alert from the very beginning of the new session. The ARS will be a vigilant and mobile team who will make their presence at all possible places of trouble. Additional members/volunteers may be co-opted by the Convener from amongst the faculties, staff, and senior students for better and effective working, if necessary.

Duties of ARS:

1. The ARS will make surprise raids on canteen, hostels, laboratory, classrooms and vulnerable places for preventing incidence of ragging.
2.They will conduct on-the spot enquiry very fast into any incident of ragging referred to it or observed by themselves.
3.The enquiry report along with recommendations will be submitted to the chairman of ARC at the earliest. The ARS will conduct such enquiries observing a fair and transparent procedure and the principle of natural justice.
4. It will undertake anti-ragging campaigns through out the institute campus and hostels for awareness and prevention of ragging.
All the members of ARS are hereby requested to actively participate in the anti-ragging activities and make this institute of higher learning in technical education totally free from ragging.
Members of Mentoring Cell:
1.Prof. Debabrata Dutta – Convener [9748077469]
2.All Batch Cordinators
3.All the Class Representatives
Duties of Mentoring Cell (MC)

a) It will interact with the first year students on daily basis to ascertain . problems/difficulties faced by the students, if any, and extend necessary help and guidance

b) It will counsel individually the first year students regularly regarding likely problems of adjustment in a new situation in life and studies, the environment, traditions ,dos, and don'ts, work pressure, etc; allay misconceptions and fears about ragging, and invigorate them to fearless.

c) It will provide information regarding Help-Lines, contact number of relevant officials. It will also arrange to handover the printed information booklet, leaflets, etc. about anti-ragging measures, induction programmes, orientation programmes, and other to the new students.

d) It will counsel ragging prone students for change of attitude and behaviour and encourage them to lead a normal student life.
All the members of the MC are hereby requested to actively participate in the anti-ragging activities and make this institute of higher learning in technical education totally free from ragging.